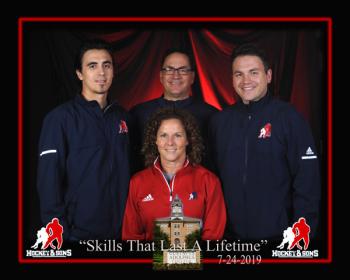 Troy G. Ward is a respected leader in many hockey circles. A former NHL coach, his experience in coaching and managing pro and non-pro hockey encompasses all levels, from Youth up through High School, Junior A, Collegiate, Minor Pro, and Major Juniors. Hockey has been core to this Minnesota native's life, and he'll continue giving back to the game that has earned its place as one of America's favorite participant and spectator sports.
Ward has an active involvement in the future of hockey at all levels. In 2005 he became Vice President of Hockey Operations with Next Testing, a leader in developing comprehensive, sport-specific testing programs to provide both recruiting organizations and athletes with tools for understanding performance.
A businessman with proven acumen, Ward's experience includes building Hockey and Sons into one of the greatest success stories for sports enthusiasts in the Midwest. The program celebrates its 23rd year this summer, and participation has increased by more than 75% since its inception, with a family retention rate of approximately 80%.
Ward's own career started when he was made Captain of the University of Wisconsin Eau Claire 1984 NAIA championship team. He then went on to coach his alma mater for three seasons, before taking over as head coach at a relatively young 25 years of age. From there he went on to become general manager and head coach of the Dubuque Fighting Saints, where he led his team to a third-place finish in the 1995 National Junior "A" Tournament, and coached 18 players who went on to play collegiate hockey with Division I scholarships. Ward's success reached a new level when he earned Northern Conference Coach of the Year honors and led his Trenton (NJ) Titans to a Conference title in 2001.
Other stints in professional hockey include three years as assistant coach for the Pittsburgh Penguins (1997-2000), senior VP and Director of Hockey Operations for the East Coast Hockey League (2001-02), and assistant coach of the Indianapolis Ice (1995-97).
To diversify his experience with every aspect of the game, Ward has also worked as a broadcaster and acted as a game analyst for radio coverage of the Milwaukee Admirals for 1 year. He has worked in TV handling coverage of college hockey. He is currently an amateur scout for the Vancouver Canucks.