Administration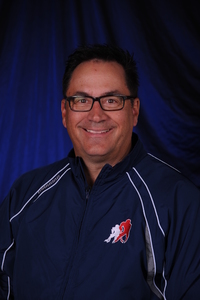 Troy G. Ward Owner
From the time he first put on skates, hockey has been a major part of Troy Ward's life. Hockey and Sons, a trailblazing summer camp, will mark its 24th year in 2021.
The North St. Paul native captained a NAIA championship at UW Eau claire. He later coached his alma mater for 3 seasons. Troy's hockey career grew from there, coaching in the USHL, WHL, NCAA, AHL, EBEL, and NHL. In 2001, he moved to the executive side for a season as VP and Director of Hockey Operations for the ECHL.
In addition to his leadership with Hockey and Sons, Troy scours the hockey landscape as a scout for the NHL's Vancouver Canucks.
"I set out to create a special bond between me and my sons, in a unique setting of a hockey rink. The game of hockey captures so many emotions, for both the parent and child, developing over a period of time. I wanted to foster that for a lifetime."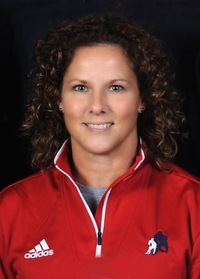 Marilyn Ward Administrative Assistant
She is often the first face campers see when they arrive at Hockey and Sons, Marilyn is the behind the scenes guru of the camp.
Marilyn manages the year-round aspects of Hockey and Sons with registration, bookkeeping, and communication. She can also be found at camp, helping with the day to day administrative tasks. A native of Middleton, WI Marilyn attended UW Madison and works as a high school counselor.
"I love being a part of a program that has such long-last effects on families. Hearing both the parents and the kids say that Hockey and Sons is the best week of the year, brings a huge smile to my heart. It makes sleeping in a dorm room for 4 nights totally worth it!"
Coaches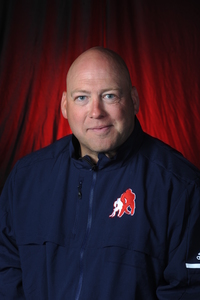 Luke Strand Coach
Current Head Coach, Sioux City Musketeers (USHL).
Former Assistant Coach, Abbotsford Heat (AHL).
Former Assistant Coach, UW-Madison.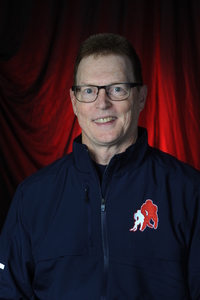 Wes Bolin Coach
One of the most respected names in amateur hockey, Wes returns for his 22nd year with the Hockey and Sons staff. A native of Minneapolis, he played for UW Eau Claire.
In 2004 Wes took over the Woodbury HS program, guiding the Royals to the MN State HS tournament for the 1st time ever and was named the top MN Prep Coach of the Year in 2007. Wes is the recipient of the John Mariucci Award, Dave Peterson Award, and the Ted Brill Award.
Wes is also involved in USA Hockey Development camps in MN and WI and has worked with Coaches Help Eliminate Cancer in Kids (C.H.E.C.K.).
"One of the best moments occurs on the last day of camp when Troy or Taylor asks the kids to 'give your dad a hug and tell him thanks for taking me to Hockey and Sons'. This sight of genuine love between father and child is one of the most satisfying and emotional moments, particularly with families who have been with us for many years."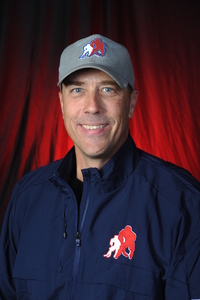 Brett Petersen Coach
Brett Petersen takes a very short trip to get on the ice at Don Roberts Arena as an instructor at Hockey and Sons. He just walks from his office. The Roseville, MN native has been the head men's hockey coach at Gustavus Adolphus since 1999. He has been named MIAC Coach of the Year 3 times and the Gusties have won 247 games under his stewardship. Prior to coaching, he was a stellar defenseman, playing 4 seasons for the University of Denver.
"I started working at Hockey and Sons back when the camp was held at Shattuck St. Mary's. The core group of coaches today, also started back then. It's a testament to Troy, and the philosophy of Hockey and Sons, that our group has stayed together for so long. Personally, it's the highlihgt of my summer."
Keith Paulsen Coach
Keith returns for his 4th year as an instructor at Hockey and Sons. The Eau Claire native has been coaching for nearly 2 decades at several levels of the sport. He was a stalwart blueliner during a 4 year college career at UW Eau Claire, serving as an asst captain his senior season.
In 2010, Keith joined the junior ranks as an asst coach at Sioux City before joining the Madison Capitols staff. For the past 4 seasons, he has been in the Minnesota Wild's system as an asst at their AHL affiliate in Iowa.
"The best part of Hockey and Sons is the people. Troy, Marilyn, and the entire staff are great to work with. But seeing the players and parents enjoying time together on and off the ice is what really makes it so incredibly rewarding. I hope someday my young daughter or son wants to attend camp."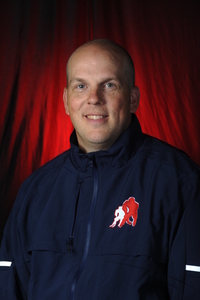 Ryan Petersen Coach
A North St. Paul, MN native, Ryan starts his 4th year as an instructor at Hockey and Sons. After his high school days, Ryan was a hard charging forward for Sioux City and Green Bay (USHL) before enrolling at St. Norbert College. While there, he was a member of a NCAA D III Championship unit and served as a team captain for 2 seasons. This year marks his 4th season as an assistant coach at Green Bay (USHL).
"Hockey and Sons has become my favorite camp to take part in over the last few summers. The experiences that you and your child share while at camp are impactful, honest, and challenging. After every camp, I find that I am inspired by the effort and devotion that parents share during their time together and the admiration that their children have looking back at their parents is extremely fulfilling."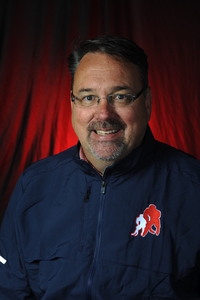 Tim Coghlin Coach
One of the most successful coaches in the history of Division III men's hockey, Tim returns for his 10th season at Hockey and Sons. The British Columbia native was a two-time All American blueliner during his playing days at UW Stevens Point. He subsequently played for Milwaukee (IHL) and in England before going behind the bench fulltime.
Tim took over the head coaching reins at St. Norbert College in 1994. Under his guidance, the Green Knights have won 5 NCAA D-III championships and have made it to the Frozen Four a dozen times.
"This camp provides an opportunity for all to develop their game. The staff provides elite levels of knowledge for players and parents alike. Every time I am out recruiting it seems I always see a parent or player with ties to Hockey and Sons. All levels of ability are welcome and everyone enjoys their time together."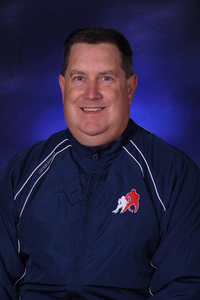 Jeff Giesen Coach
A three-decade veteran of the college coaching scene, Jeff is in his 3rd year as a member of the Hockey and Sons staff. The Blaine, MN native first went behind the bench in 1992 when he joined John Harrington's staff at St. John's. When the Johnnies won the league title in 1996, it was their first crown in 46 seasons.
From 2003-2014 Jeff was on the coaching staff for St. Cloud State's women's team. Then in 2015, he rejoined Harrington in Mankato as the associate head coach of the MN State women's team, where he remains today.
"Hockey and Sons is one of the most unique camps I have ever been involved with. They have such quality coaches and good people involved that have a passion and care for developing the players and sharing in the parent-child experience."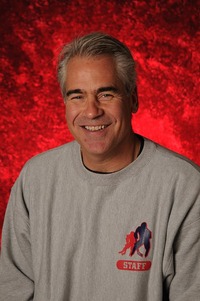 John Hill Coach
John brings roughly 4 decades of hockey background as he returns for his 10th year as an instructor for Hockey and Sons. The Alaskan played high school hockey in Anchorage and then joined the burgeoning UAA college program in 1980. He played minor league hockey in Muskegon and Virginia.
John started his coaching career in Dubuque in 1989 and rounded it out with Alaska Anchorage, Colorado College, and the University of Minnesota before joining the professional ranks as a scout for the NHL's Phoenix Coyotes. He is currently scouting for the Edmonton Oilers.
"I love the family atmosphere...I enjoy seeing the fathers and sons interact on the ice...And when you see them come back the next year, you can see how their relationship has improved...It's a great environment."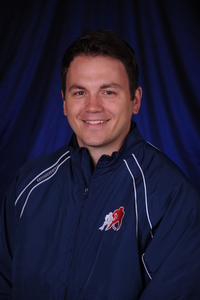 Taylor G. Ward Coach
Taylor brings a unique perspective to Hockey and Sons. He started as a camper at age 7. 2021 will mark his 15th year of involvement in the program.
The North St. Paul native was a member of the 2012-13 UW Eau Claire team that won the NCAA Division III championship.
Taylor has a wide-ranging resume as a coach. He was an assistant with Sioux City and the UW Eau Claire women's team before taking the coaching reins of the Skipjacks in York, PA. He is currently an assistant with Waterloo.
"There is a special bond that forms in a father and son relationship when they play the game they love together...Being able to provide that family connection and watch them grow as hockey players in the camp year after year, is truly rewarding. Each of them has memories from this camp that really do last a lifetime. I know I have mine."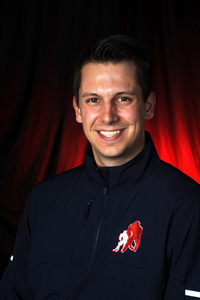 Justin Hale Coach
Justin brings his blue line expertise to Hockey and Sons for a 15th year as an instructor. The Stoughton, WI native is currently in his 2nd season as an asst at Dubuque in the USHL. Prior to heading south, Justin spent a season as an asst coach at Madison in the USHL and Bemidji State in the Western Collegiate Hockey Association. He also spent a pair of seasons helping the fortunes of the Lone Star Brahmas, a top NAHL franchise. Before going behind the bench, Justin was a 4 year stalwart at D III Wisconsin-Stevens Point.
"Hockey and Sons is family. I enjoy being with and learning from the fellow coaches and counselors. It's awesome to see all the parents forget about their busy schedules and spend quality 1 on 1 time with their child."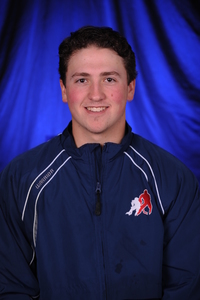 Graydon Skok Coach
The New Prague, MN native first hit the ice for Hockey and Sons when a goalie was needed for on ice games. That quickly morphed into joining the staff. 2021 will be his 6th year as a goalie instructor. A member of 2 Minnesota State Tournament teams at New Prague, Graydon attended UW Eau Claire where he spent time in the nets for 4 ACHA D II teams. The Blugolds won 45 games his first 2 seasons there.
He is the owner of Upper Midwest Goaltending, a goaltending skills school located in Eau Claire.
"I like the connections you make at Hockey and Sons and teaching the kids how to love the game."
Lecture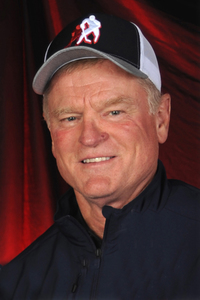 Kevin Constantine Lecturer
One of the best known names in the sport, Kevin returns to Hockey and Sons for his 4th year. The International Falls native was an outstanding goalie and was a 1978 draft pick of the Montreal Canadiens.
Kevin went behind the bench in the 1980s with Rochester (USHL) and has been a coach ever since. He has coached in the WHL, AHL, and NHL with San Jose, Pittsburgh, and New Jersey. Constantine has also led teams in France, Switzerland, South Korea, and his current post in Poland.
"Troy Ward built the foundation for Hockey and Sons based on a high level of professionalism in detail and instruction, and then followed up by bringing in high level coaches to deliver that information. The fact families return year after year, often for 6, 7, 8 straight years, is a testament to how much benefit players and parents get from the camp and how much fun they have attending."
Social Media Coordinator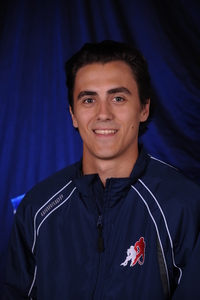 Nathan Ward Social Media Coordinator
He was one of the youngest campers ever, hitting his first Hockey and Sons when he was 2 years old. By the time he was 14, he was one of the staff counselors and now serves as the social media coordinator. Nathan played his high school hockey at Mount Lebanon, PA and attended college at UW-Eau Claire.
"Hockey and Sons has remained a constant in my life since before I can remember, allowing me to be surrounded by many influential people who I am lucky to call family. Our camp highlights the perspectives in life that seemingly get lost in our everyday world, while also allowing kids to create memories with their mom and dad that they'll never forget."
Counselors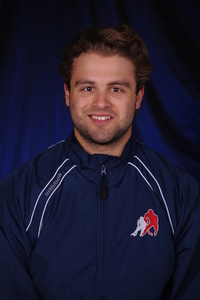 Tommy Muck Counselor
Former Player, Bemidji State.
Former Player, Madison Capitols (USHL).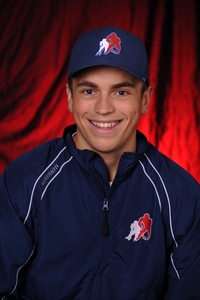 Noah Janofsky Counselor
Current Student and Hockey Operations Assistant, U-Mass.
Former Player, Richmond Generals (USPHL).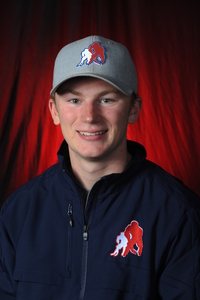 Alex Stuckert Counselor
Current Player, UW-Stout.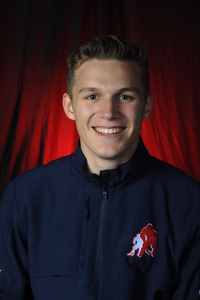 Joe Becker Counselor
Former player, Hill Murray High School.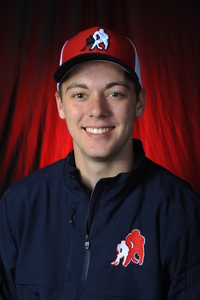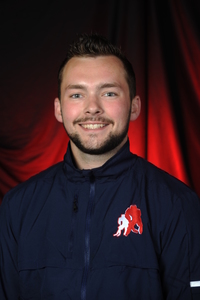 Logan Murphy Counselor
Current Assistant Coach, Chippewa Steel (NAHL).
Former Player, UW-Eau Claire.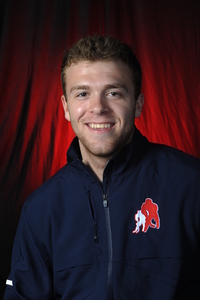 Jordan Strand Counselor
Current Player, Wilkes-Barre.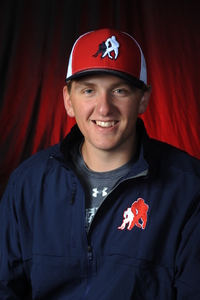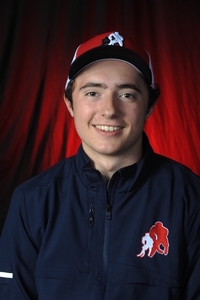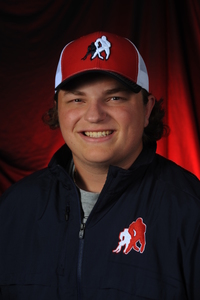 Cameron Janofsky Counselor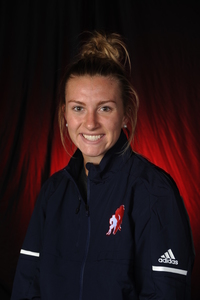 Claire Butorac Counselor
Current Player, Mankato State.